Ensure you are within the coverage area for the Wi-Fi network 'Christchurch Free'
On your chosen device, select 'Settings' then 'Wi-Fi'
Select the network 'Christchurch Free'

You will be taken to a login page (see example image below). By selecting 'Get Online' you agree to the Terms and Conditions.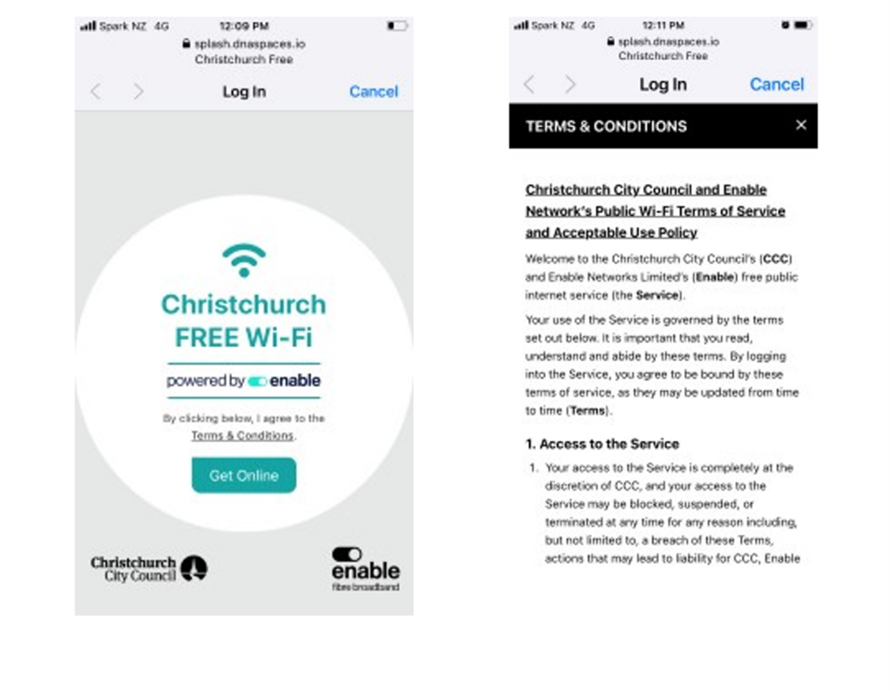 Once connected, you will be taken to the Christchurch City Council homepage. You are now connected to our city Wi-Fi network, offering four hours of fast free internet per login session.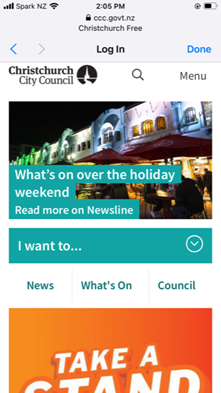 Important: This service is free of charge. You do not need to register and therefore we will never ask you for any personal information including credit card details when you login to use our Wi-Fi network.
To report a fault with the Christchurch Free Wi-Fi, please call the Christchurch City Council on 03 941 8999 (0800 800 169) and select option 2.
The Christchurch Free Wi-Fi SSID cannot be found in my network list:
The SSID will not be displayed if you are outside the Wi-Fi zone's range. Check the coverage area here.
If the SSID doesn't show up even if you are within the Wi-Fi zone, then it is possible that your device is not properly receiving the signal. Try turning the Wi-Fi off on your device, and then turning it on again. This might help to solve the problem.
* This advice depends on the type of device you are using.
The web address you are trying to access may be restricted or partially blocked:
We support the free flow of information and ideas over the Internet, however, your access to the Service is conditional upon you using the Service appropriately and to a reasonable level. Your use of the Service is monitored and if we have reason to believe that you have breached the Terms or that you have otherwise misused the Service, we may suspend or permanently terminate your device's access to the Service without notice to you.
You may be overloading the Service:
By accepting the Terms and Conditions, you agree not to use the Service to transmit, upload or download data-heavy content that may overload the Service.
Restrictions:
Christchurch Free Wi-Fi has a time limit of four hours. After the four hours is up, it will ask you to log in again - so you can get back on with one click.
Likewise, if you aren't using the service for 15 minutes you will be logged out and it will ask you to log in again.
Some content is restricted.
The main type of traffic that is restricted is torrenting (very bandwidth heavy).